KNOEDEL
still
"Kaum etwas endet so, wie es anfängt"
Preis: € 16,00
WWE 1CD 20446
VÖ: 24.05.2019
Catherine Aglibut, Violine
Margret Köll, Tripelharfe
Alexandra Dienz, Kontrabass
Michael Öttl, Gitarre
Walter Seebacher, Klarinette & Hackbrett
Andreas Lackner, Trompete & Flügelhorn & Hackbrett & Glockenspiel
Charlie Fischer, Haimophon & Hölzernes Glachter & Weinflaschen & Hackbrett & Glockenspiel & Drum-Set
Christof Dienz, Fagott & Zither
RaaDie
Vast Potential
VÖ: 25.01.2019
EAN/UPC: 705304467428
Traumton CD: 4674
CD bestellen
Lineup: Lorenz Raab: trumpet, electronics Christof Dienz: e-zither, looper, electronics
Andreas Martin Hofmeir
Benjamin Schmid
Stradihumpa
Benjamin Schmid / violin
Andreas Martin Hofmeir / tuba
Mit Kompositionen von Christof Dienz
ACT 9864-2
www.actmusic.com
Manu Delago
Siver Kobalt
Manu Delgago – Hang, drums, programming ipad, piano,
tuned pecussion, ocarina, backing vocals and other items
Isa Kurz – vocals, piano and violin
Christof Dienz – bassoon
Matt Robertson – additional synths
Special guests:
J.Viewz – beat programming and co-production on Disgustingly Beautiful
Anil Sebastian – vocals on Drumheart
Jelena Poprzan – viola and vocals on Wandering Around
Katie Nooman – vocals on Dearest
Tru Thoughts 2015
www.tru-thoughts.co.uk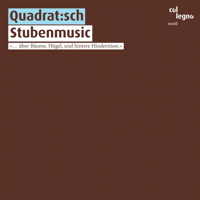 Quadrat:sch Stubenmusic 
Alpine chamber music! Across the boundaries of time and space.
CD 1  Quadrat:sch 42:07
Barbara Romen | Hackbrett
Christof Dienz | Zither
Alexandra Dienz | Kontrabass
Gunter Schneider | Gitarre
CD 2  Quadrat:sch Extended 39:52
Zeena Parkins, Harfe
Herbert Pirker, Perkussion
Barbara Romen, Hackbrett
Christof Dienz, Zither
Gunter Schneider, Gitarren
Alexandra Dienz, Kontrabass
2011 col legno Produktions- und VertriebsgmbH
www.col-legno.com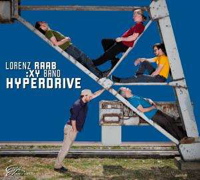 LORENZ RAAB :xy band
Hyperdrive
Lorenz Raab (tp)
Christof Dienz (zither)
Matthias Pichler (b)
Oliver Steger (b)
Herbert Pirker (dr)
Release: 14.10.2011
Label: JAZZ'n'ARTS
ShortCuts
Hey Driver, Cool Down the H's
Composed by Christof Dienz
Petra Stump – Klarinette, Bassklarinette
Heinz Peter Linshalm – Klarinette, Bassklarinette
First performed on 06/13/2008 in Vienna / A
2008 einklang records, 045/046
www.einklangrecords.com
102 masterpieces
Vienna Radio Symphony Orchestra Miniatures
Artist: VARIOUS
Title: 102 masterpieces
Label: Capriccio
Conductors: Friedrich Cerha, Kurt Schwertsik, Gottfried Rabl
CDs: 2
ORF-Shop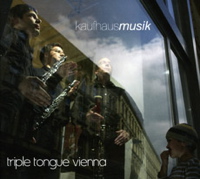 Triple Tongue Vienna
Kaufhausmusik
Artist: VAIOUS
Title: Triple Tongue Vienna
Label: ORF
Release: Sept. 2010
Style: Contemporary
Order: ORF-Shop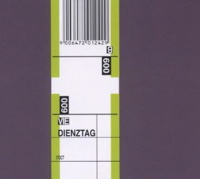 Dienztag
Artist: DIENZTAG
Title: DIENZTAG
Kat.Nr. H-621-2
Label: Geco Tonwaren
Release: 6.2.2009
Style: Jazz / Contemporary
Cat-Nr.: H-621-2
EAN: 9006472012429
Mon privée Afrique de l'Ouest
Artist: DIENZ MIXED ENSEMBLE
Title: MON AFRIQUE DE L'OUEST
Producer: Hubl Greiner
Label: Geco Tonwaren
Release: 6.2.2009
Style: Jazz / Contemporary
Cat-Nr.: H-622-2
EAN: 9006472012436
Alpenglühen
Artist: ENSEMBLE INTÉGRALES
Composer: Christof Dienz
Title: AMPLIFLY (for vl., alt-sax, kb., piano, percussion and guitar amp with cable.
Release Date: January 1, 2012
Label: Col Legno
Copyright: (c) 2012 Col Legno
Total Length: 1:03:08
Genres: Classical
ASIN: B006OCYN6A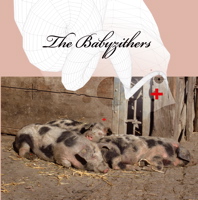 THE BABYZITHERS 10″ vinyl
This avant-jazz-rock trio out of vienna is trying to go new old roads. Combining improvised eclectronic power rock with minimal but strong lyrics, only using keywords out of commercials, news headlines and daily live.
Titles: illness / me and my car / secutity
EU – Original 2007
Label: Geco Tonwaren
Christof Dienz – zither, electr
Andi Haller – electric bass
Herbert Pirker – drums
DIENZ ZITHERED
Vienna based musician and composer CHRISTOF DIENZ ("Die Knödel") steps with his new project into new musical dimensions. With an old traditional austrian instrument, the zither (remember the theme of Harry Lime out of the Third Man Soundtrack!), he beats new strings!
CD1 DIENZ ZITHERED
The original Zither project (pure zither), studiorecording, produced by Hubl Greiner
CD2 DIENZ ZITHERED REMIXED
DJ DSL (G-Stone), Rupert Huber (Tosca), Hubl Greiner (The Blech), Cay Taylan (Couch Records), Louis2000 (Frikyiwa), Martin Brandlmayr (Radian), MTFloyd (Transdubmassiv), Christian Martinek (Musikpark), Johannes Strobl (Paloma, Berlin), Andi Haller, Luigi Archetti, Bo Wiget, Tom Watson und Bernhard Lang.
Label: Geco Tonwaren 2003
Die Knödel
Die Knoedel have redefined Austrian "blasmusik" (brass-band music), a genre that seems to be caged in commercial kitsch settings reinforcing the German/Austrian cliché of "lederhosen" boys and "dirndl" girls constantly drinking beer and eating sauerkraut.
Die Knödel – Verkochte Tiroler
Christof Dienz, bassoon
Alexandra Dienz, bass, hammered dulcimer
Julia Fiegl, violin, holzernes glatcher, voice
Margreth Koll, harp
Cathi Aglibut, viola, voice
Walter Seebacher, clarinet, bass clarinet, hammered dulcimer
Michael Ottl, guitar, voice
Andreas Lackner, trumpet, flugelhorn, bass, voice
Label: RecRec music
Produced by Hubl Greiner 1992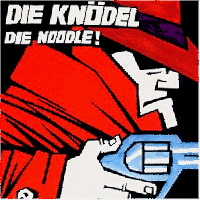 Die Knödel – Die Noodle! (RecRec music)
Christof Dienz, bassoon
Alexandra Dienz, bass, hammered dulcimer
Julia Fiegl, violin, holzernes glatcher, voice
Margreth Koll, harp
Cathi Aglibut, viola, voice
Walter Seebacher, clarinet, bass clarinet, hammered dulcimer
Michael Ottl, guitar, voice
Andreas Lackner, trumpet, flugelhorn, bass, voice
Label: RecRec music
Produced by Momo Rossel 1993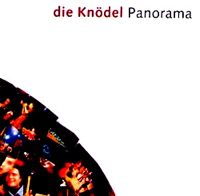 Die Knödel – Panorama (RecRec music)
Christof Dienz, bassoon
Alexandra Dienz, bass, hammered dulcimer
Julia Fiegl, violin, holzernes glatcher, voice
Margreth Koll, harp
Cathi Aglibut, viola, voice
Walter Seebacher, clarinet, bass clarinet, hammered dulcimer
Michael Ottl, guitar, voice
Andreas Lackner, trumpet, flugelhorn, bass, voice
Label: RecRec music
Release: 1995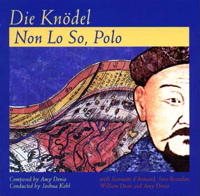 Die Knödel – Non Lo so Polo
Marco Polo's travel as folk opera by Amy Denio
Christof Dienz, bassoon
Alexandra Dienz, bass, hammered dulcimer
Julia Fiegl, violin, holzernes glatcher, voice
Margreth Koll, harp
Cathi Aglibut, viola, voice
Walter Seebacher, clarinet, bass clarinet, hammered dulcimer
Michael Ottl, guitar, voice
Andreas Lackner, trumpet, flugelhorn, bass, voice
Label: RecRec music
Der Unfisch
Movie soundtrack
Label: Geco Tonwaren
JBBG – Jazz Bigband Graz
URBAN FOLKTALES
Woodwinds: Heinrich von Kalnein, Christoph Pepe Auer, Johannes Enders, Robert Friedl, Herb Berger, Klaus Gesing, Martin Harms
Trumpets & flugelhorns: Bernhard Nolf, Andy Pesendorfer, Axel Mayer, Horst-Michael Schaffer, David Jarh
Trombones: Reinhard Summerer, Robert Bachner, Philip Yaeger, Daniel Riegler, Wolfgang Tischhart
Syntheziser & keys: Uli Rennert
Acoustic bass & cello: Henning Sieverts
Drums & electronics: Gregor Hilbe
Theremin: Barbara Buchholz
Electric hurdy gurdy: Matthias Loibner
Electric zither: Christof Dienz
www.actmusic.com, 2011
Baumann Large Ensemble ‎– Kein Schöner Land
Alto Saxophone, Flute – Florian Trübsbach
Bass Clarinet, Bass Saxophone – Damir Horvat
Bassoon – Christoph Dienz
Conductor – Mathias Baumann
Drums – Mark Halbheer
Electric Bass – Wolfgang Zwiauer
Flute – Matthias Ziegler
Guitar – Franz Hellmüller
Piano, Composer – Christoph Baumann
Soprano Saxophone, Tenor Saxophone, Flute – Adrian Pflugshaupt
Tenor Saxophone, Oboe – John Voirol
Trombone – René Mosele
Trombone [Bass] – Annette Huseby
Trombone, Alphorn – Dirk Amrein
Trumpet – Daniel Woodtli, Lukas Thöni, Osvaldo Aden
www.musiques-suisses.ch, 2008
Lorenz Raab – Zoé. Live at Jazzfestival Saalfelden 2006
Lorenz Raab – trumpet
Zeena Parkins – harp
Christof Dienz – e-zither
Ali Angerer – tuba
Mathias Pichler – bass
Oliver Steger – bass
Herbert Pirker – drums
Rainer Deixler – drums, percussion
http://lorenzraab.at
www.crackshop.at
Lorenz Raab xy band – blue silk
Lorenz Raab – trumpet
Christof Dienz – zither
Matthias Pichler – double bass
Oliver Steger – double bass
Herbert Pirker – drums
http://lorenzraab.at
Universal Music Austria, 2005
attensam quartett + walter raffeiner
a.qua.plus
u.a. 3 Wiener Lieder von Christof dienz
www.attensam.org
EXTRAPLATTE 2005
Helmut Jasbar: Viennese Music Re-Imaged
Birds of Vienna
www.jasbar.at
, 2003 Gramola Records
Klangforum Wien
Matthias Pinscher
www.kairos-music.com, 1999